,
This month's newsletter includes:
---
The next meeting of the LEATHER & LGBTQ Cultural District Board of Directors is scheduled for:
Wednesday, May 17, 2023
from 6:00 to 8:00 p.m. Pacific Time
Join the Zoom meeting here.
Or call 1 408 638 0968 and enter Meeting ID: 847 8906 0820 Passcode: 972086

For questions, contact manager@sflcd.org.
View: the agenda, minutes of past Board meetings
---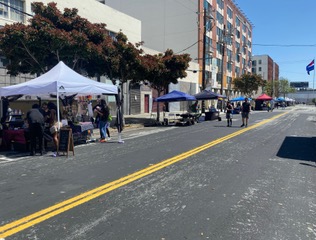 Artists! Artisans! Entertainment!
Wear your gear, take back the day!
Socialize, see kinky/queer art, check out the community "goods".
The SF Eagle will be open; enjoy a beverage.
Due to an MPX resurgence, we are partnering with the SF Department of Public Health to administer up to 300 vaccine doses.

First and second doses available.

Register here for the free vaccine.

12th Street, Folsom to Harrison, at the Eagle Plaza.

Saturday, May 13, 12 noon to 5 pm

Vendors include:

ByrdBeaks, Femmmeow, FVCK CA, Gender Monster Studios, GlamPunkArt, GOOCH Photography, House of Haven Crafts, It's Simple SF, Mauskaveli, Ram Shackle Leather, skin on skins, Spikes Leather Consignment, and Tarot by Alexandria.

Pup Jake will sketch you in charcoal live all through the fair.
Schedule:

1 pm - The Leather Pride Contingent is meeting at the Eagle (see below).
2 pm - Sumiko Saulson will conduct an erotic story writing workshop. Earn your Certificate of Smutification.

Details:
---
Join us on our first walking tour: SOMA Origins: Bars, Bathhouses and Beyond

Now a world-wide leather/kinky/queer destination, SOMA (South of Market) began attracting leather bars in the '60's. Find out why!
Learn about the raucous exploits of the '70's when motorcycles lined the streets outside popular bars.
Hear about today's bar and clubs and what they used to be, including one on Folsom with a swimming pool.

Sunday, May 21, 2pm
Tour starts at 9th and Ringold, ends at the SF Eagle in time for the Sunday Beer Bust.
90 minutes, no hills.
Free! Space is limited; advance registratiion required.
---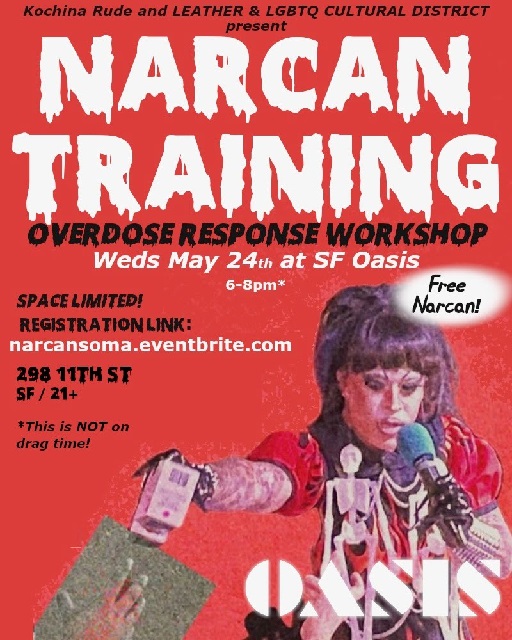 Narcan Training -- Overdose Response Workshop
Wednesday, May 24, from 6 to 9 pm.
At Oasis, 298 11th Street at Folsom
Presented by Kochina Rude

In cooperation with The LEATHER & LGBTQ Cultural District and Oasis
Responding to the overdoses in our community.

Each participant will receive a two-pack of Narcan.
Free to anyone, however advance registration is required.
This program continues and expands the training we have been offering to bar and club staff.
---
See renown kinky and queer local art at a special Pride Pop-Up Art Show at Heron Arts,

7 Heron Alley, near 8th & Heron (behind Mr. S Leather).

Attend the free opening reception on June 2, from 6 - 9 pm, featuring DJ Trevor Sigler and a special performance by Kochina Rude.
See the gallery show by appointment between June 3rd and June 14th, 2023.
This exhibition celebrates Pride month, and the LGBTQ+ community's cultural heritage in the SoMa neighborhood.
Participating artists include Adam Caldwell, Aleckzander Anthony, Alex Prestia, Diego Gomez, Dorian Katz, Elliott C Nathan, Favianna Rodriguez, Gloria Polo, J Manuel Carmona, Johnny Botts, Jonesy, Josh Katz, Justin Hall, Kegan Marling, Luke Andahazy, Phil Chanin (Glitter Moonbeam), Serge Gay Jr., and Tanya Wischerath.
Free and open to the public.
Heron Arts is located at 7 Heron St, off of 8th Street near Harrison.
---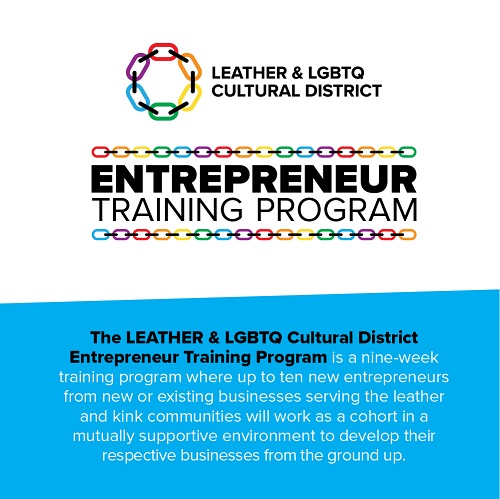 The next cohort of the LEATHER & LGBTQ Cultural District's Entrepreneur Training Program begins on Thursday, June 22.
This 9-week program helps leather community folk start and build their businesses.
To apply please complete this application form.
---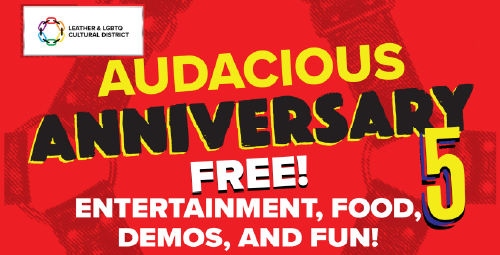 We hope you were able to attend our Audacious Anniversary Party on May 6.
Check out the pictures, here.
---
The Leather Contingent rides again in the 2023 Pride Parade on June 25, 2023.

The contingent organizes a parade entry, open to all, gear, leather and fetish attire encouraged.

Organizer Robert Makowka invites you to attend an organizational meeting

This Saturday, May 13th at 1:00 pm
On the patio of the SF Eagle
Conveniently adjacent to the SOMA Second Saturdays festivities (see above).

Nominations for Leather Marshalls of all genders are now being accepted.

Send your nominations to Robert with the subject "Leather Marshall".

Fund-raising is now under way to cover expenses.
A Beer Bust at the SF Eagle on Sunday, June 4 is being planned
Follow all the planning (and make suggestions) at the Facebook Group here.
Also watch for updates here.
---
Mark your calendar for these newly-announced leather and kink community contests:
The Mr. San Francisco Bear 2024 contest is scheduled for August 17-20, 2023.

Cody "Codybear" Elkin (Mr. San Francisco Bear 2008, Mr. San Francisco Leather 2016) will provide details soon.

The Bay Area Cub Contest will take place on Sunday, August 20, 2023, from 4 to 8 pm, during the Beer Bust at the Lone Star Saloon.

This will end the title year of Bay Area Cub 2023 Daniel "Huggybear" Cherry.
The contest, sponsored by the Bears of San Francisco promotes body positivity, community building, and philanthropy,
The contest is non-gendered, and all definitions of "cub" are welcome.
Potential contestants or sponsors are invited to contact BayAreaCubContest@gmail.com.

Leather Alliance Weekend, September 7 - 10, 2023, will include both the Mr. SF Leather contest and the new Mx. SF Leather contest.

Thursday, September 7, at 6 pm, Meet & Greet the contestants at Mr. S Leather.
Friday, Sept. 8, evening, Contestant Introductions and Fantasy Grab Bag event.
Saturday, September 9, at SOMArts, the Contests! followed by an Afterparty
Sunday, afternoon, Titleholder Social.
Contestant applications will be available June 2, and due by August 2.
---
Join the Cultural District now!
Membership is $15 (dues waiver available for financial hardship).
Click here to join or renew.

Do not share this link with others; it has been customized for you, and will expire in 7 days.

For assistance, please contact manager@sflcd.org.
---
Help keep SOMA Kinky & Queer. Make a donation today!
Your gift helps keep our kinky places and spaces in SOMA, and supports community events, performances and public art.
Thanks!
---
Tell your friends they can sign up to receive this newsletter at sflcd.org/signup.
Please use the social media links below to follow, repost, retweet, amplify, and share everything we do!
It's that time of year when more things are happening than a single calendar can capture. Check out some of our favorite community calendars here. Stay busy, and stay kinky!

--
LEATHER

&

L

G

B

T

Q

CULTURAL DISTRICT


584 Castro Street #140




San Francisco

,

CA

94114




United States

415-237-3237
SFLCD.org
info@SFLCD.org
Unsubscribe