,
This month's newsletter includes:
---
The next meeting of the LEATHER & LGBTQ Cultural District Board of Directors is scheduled for:
Wednesday, March 15, 2023
from 6:00 to 8:00 p.m. Pacific Time
Join the Zoom meeting here.
Or call 1 408 638 0968 and enter Meeting ID: 847 8906 0820 Passcode: 972086

For questions, contact manager@sflcd.org.
View: the agenda, minutes of past Board meetings
---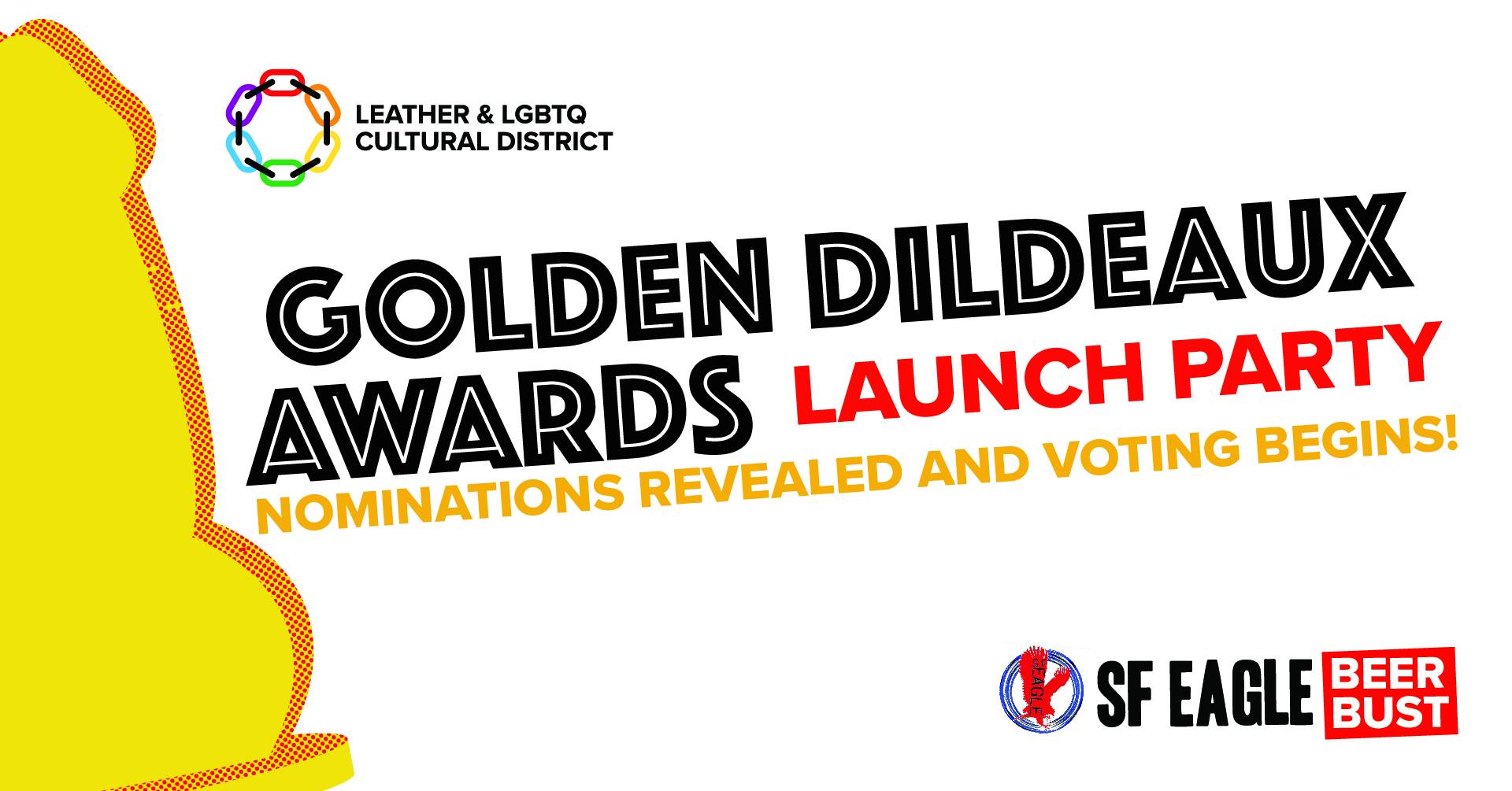 The Woodys are here!
Attend the Golden Dildeaux Awards Launch Party!

At the SF Eagle Beer Bust
Sunday, March 12, 3 to 7 pm,
See who scored a coveted nomination!
Past winners, bring your awards for a special photo op!
Online voting begins at 5pm!
$15 Beer or Soda Bust, includes Food. $5 for food only.
Great raffle prizes, golden jello shots, new ByrdBeaks items, tail-wagging Service Pups.
Bring a friend! Meet up on Bloom!

Vote Early, Vote Often!

Vote here, beginning at 5 pm on March 12, 2023
Voting remains open until 5 pm on April 20.
Each vote costs $1.
Proceeds benefit the PRC Emergency Financial Assistance fund.
Voting is unlimited! Stuff the ballot box for your favorite candidates!

Attend the Woodys!

At the SF Eagle, Saturday, April 22, 6 to 8 pm.
The envelopes will be opened live, in person, and Woody Statuettes given to the winners!
Dress for the occasion! Take pics and selfies on the Red Carpet!

"What the heck are the Golden Dildeaux Awards?"
---
Our March SOMA Second Saturdays had to be cancelled, due to leaking from Thursday's storm at the Folsom Street Community Center.
But in the Spring we return to the fresh air!

12th Street, between Folsom and Harrison
Saturday, April 8, 12:noon to 5 pm
Artists! Artisans! Entertainment!
Erotic Storytelling -- Live and In Person!
Applicable COVID-19 precautions enforced.
This is a smoke-free event.
Free! Donations welcome.
A joint project of the LEATHER & LGBTQ Cultural District, Folsom Street, and the SOMA West Community Benefit District.
Exhibitors and vendors, sign up here.
If you are interested in entertaining, or organizing activities, please contact Cal Callahan.
Repeats on the second Saturday of each month. Mark your calendar!
---
Please join us at the LEATHER & LGBTQ Cultural District Fifth Anniversary Party!
At Folsom Street Foundry (1425 Folsom Street)
On Saturday, May 6, 2023, from 6 to 10 pm
With MCs Lance Holman and Alotta Boutté.
It's free!
---
Bare Chest Calendar Finals at DNA Lounge (375 Eleventh Street) (3 to 6 pm)
Ms. SF Eagle Leather Contest at the SF Eagle (3 to 5 pm)
Both events are within two blocks of our Anniversary Party, attend them all!
Mark your calendar, and spend a kinky and queer afternoon and evening in the LEATHER District!
---
Join the Cultural District now!
Membership is $15 (dues waiver available for financial hardship).
Your membership helps us know and promote your goals, and assures you can vote for our Board next August.
Click here to join or renew.

Do not share this link with others; it has been customized for you, and will expire in 7 days.

For assistance, please contact manager@sflcd.org.
---
Help keep SOMA Kinky & Queer; Make a donation today!
Your gift helps keep our kinky places and spaces in SOMA, and supports community events, performances and public art.
Thanks!
---
Tell your friends they can sign up to receive this newsletter at sflcd.org/signup.
Please use the social media links below to follow, repost, retweet, amplify, and share everything we do!
Have you been nominated for a Golden Dildeaux Award? Find out!

--
LEATHER

&

L

G

B

T

Q

CULTURAL DISTRICT


584 Castro Street #140




San Francisco

,

CA

94114




United States

415-237-3237
SFLCD.org
info@SFLCD.org
Unsubscribe