,
This month's newsletter includes:
---
The December 21 meeting of the LEATHER & LGBTQ Cultural District Board of Directors has been cancelled, so folks can celebrate the holidays.
As always, minutes of past Board meetings are available for your review, and manager@sflcd.org is available to answer any questions.
Please join us for any of our Board and Committee meetings when they resume in January!
---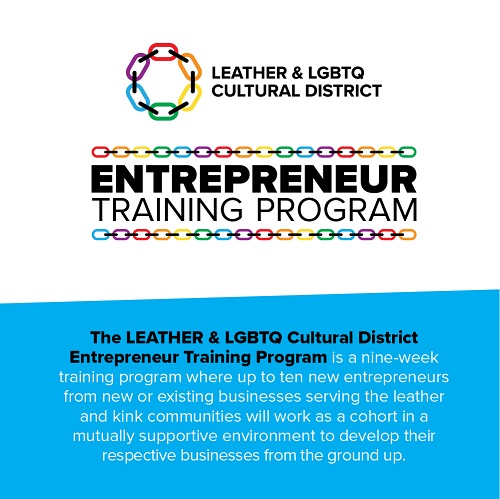 Our inaugural cohort gave glowing feedback so we're launching the next round.
The next cohort starts on Thursday, January 26, 2023.
See program info here.
Apply to the program. A few spaces are still available.
Read the Bay Area Reporter's coverage of the program.
---
The Golden Gate Guards held their Anniversary Party at the San Francisco Eagle on November19, both celebrating and ending 36 years of fun, fellowship, and fundraising in service to the leather, motorcycle, and alternative-lifestyle communities. Details of the event, and the Guards, can be found in their online archives,
Their annual and infamous Golden Dildeaux Awards will continue, and will be produced by us! We are excited to take on this fun and competitive tradition!
Nominations open in early February,
Nominate your friends for the sassiest award you think they deserve!
Community voting begins in March
Votes are $1, anyone can vote as often as they like.
Winners' ceremony in April!
We will also take on the Color Guard, which is often seen at community parades and events. Contact us if you would like the Color Guard to appear at your event.
---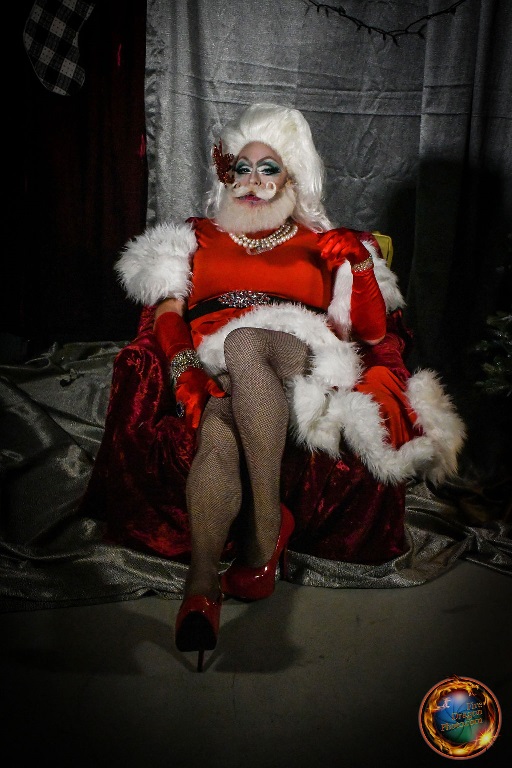 The SOMA Second Saturday Holiday Market! was held on December 10, at SOMArts, at the Wicked Grounds Annex, and at other locations around the Cultural District. Attendees patronized dozens of local and kinky vendors, browsed the Leather / Gear Swap, admired the suspension bondage of Twisted Windows, and visited our sassy Santa. A free Hippie Bus shuttled guests among the various indoor locations, and many folks stuck around for evening entertainments at various SOMA venues.
SOMA Second Saturdays are a joint project of the LEATHER & LGBTQ Cultural District, Folsom Street, and the SOMA West Community Benefit District. SOMA Second Saturdays will take January off; watch for details of a Game Day event in February!
---
Join us for an hour of kinky, aural fun! Stories told or read live.
Second Thursdays every month, 8 to 9 pm.
Our next live episode is January 12, 8pm.
Hosted by award-winning author Sumiko Saulson.
View past shows at our Erotic Storytelling Hour Archive.
---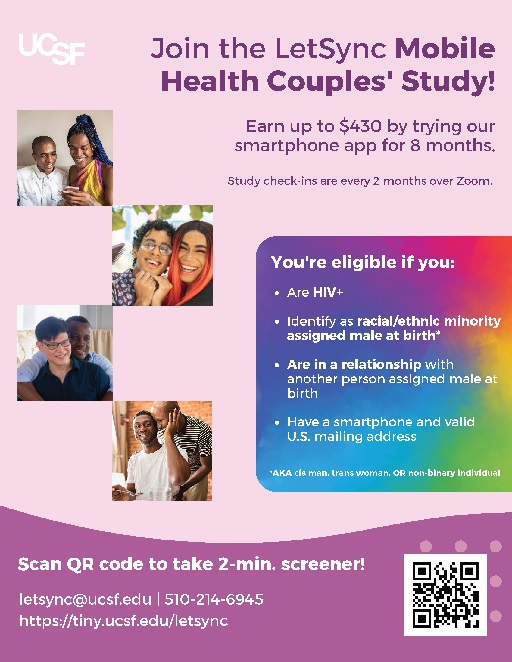 The LetSync Study with the UC San Francisco Center for Aids Preventions Studies (CAPS). is expanding their eligibility criteria, and they are now looking for 110 couples throughout the U.S. to evaluate a mobile health intervention for couples living with HIV. If you are a couple where:at least one person is HIV+ and identifies as a racial/ethnic minority, and both persons are 18+ y/o, assigned male at birth (cis men, trans women, and/or non-binary folks), have a smartphone and valid phone #, and a valid U.S. mailing address, you could each earn up to $430 for your participation.
For more info, click here. If you are interested, please click here to take 2-min. screener!
---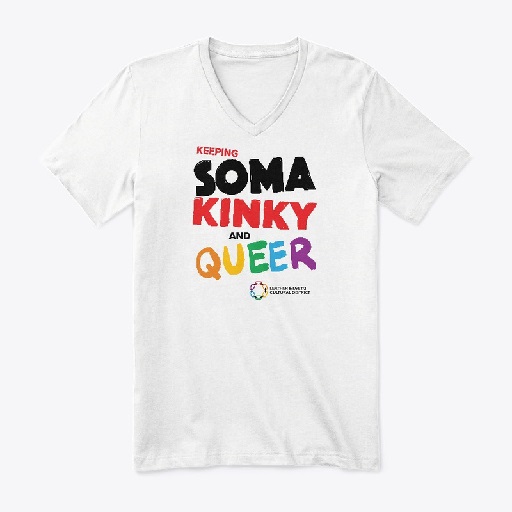 Check out LEATHER District merchandise in our online store!
Get your own LEATHER District mugs, water bottles, pillows, t-shirts, tank tops, and hoodies!
All items shipped directly to you!
All purchases benefit the LEATHER & LGBTQ Cultural District.
---
Join the Cultural District now!
Membership is $15 (dues waiver available for financial hardship).
Click here to join or renew.

Do not share this link with others; it has been customized for you, and will expire in 7 days.

For assistance, please contact manager@sflcd.org.
---
Help keep SOMA Kinky & Queer; Make a donation today!
Your gift helps keep our kinky places and spaces in SOMA, and supports community events, performances and public art.
Thanks!
---
Tell your friends they can sign up to receive this newsletter at sflcd.org/signup.
Please use the social media links below to follow, repost, retweet, amplify, and share everything we do!
Best wishes to you all for a safe, healthy, and kinky holiday season!

--
LEATHER

&

L

G

B

T

Q

CULTURAL DISTRICT


584 Castro Street #140




San Francisco

,

CA

94114




United States

415-237-3237
SFLCD.org
info@SFLCD.org
Unsubscribe