,
This month's newsletter includes:
---
The next meeting of the LEATHER & LGBTQ Cultural District Board of Directors is scheduled for:
Wednesday, November 16, 2022
from 6:00 to 8:00 p.m. Pacific Time
Join the Zoom meeting here.
Or call 1 408 638 0968 and enter Meeting ID: 847 8906 0820 Passcode: 972086

For questions, contact manager@sflcd.org.
View: the agenda, minutes of past Board meetings.
---
MPX Vaccines – Shots Given @ Eagle Plaza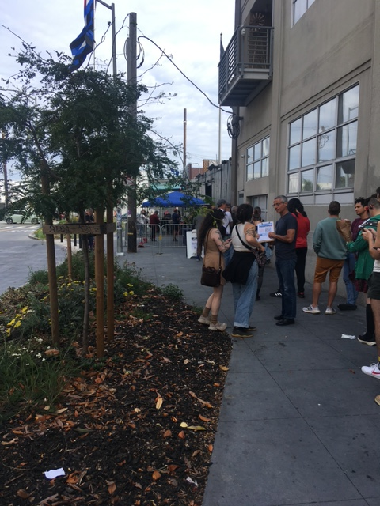 During September and October, the District lobbied the city to have MPX vaccination popups at the Eagle Plaza - 408 MPX shots, 34 COVID boosts, 33 flu shots were delivered. Learn more here.
---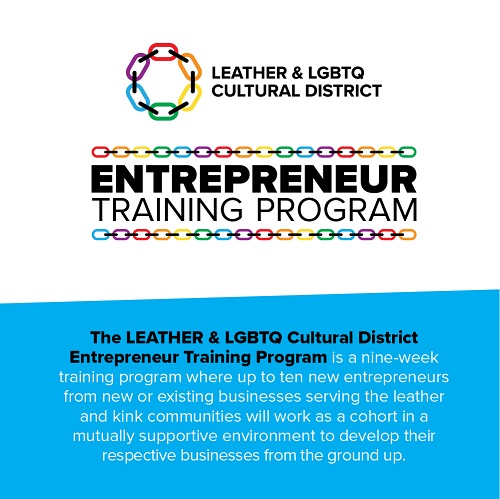 Congratulations to the District's first Entrepreneur Training Program cohort which graduated in September!
The District launched a training program for community members interested in launching or building up a business that serves or operates in the District.
The next cohort starts in late January. For information or to apply, click here.
---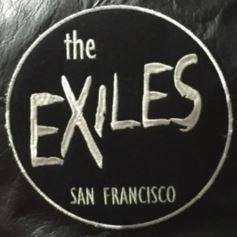 In October, the District helped the Exiles overcome a bureaucratic roadblock so that they could resume operating as a 501(c)3 non-profit in good standing.
---

A multi-location indoor holiday market!
Saturday, December 10, 2022
Includes:

Art and Artisan Fair

12 noon – 5 pm
SOMArts, 934 Brannan Street (between 8th and 9th)
Free admission, optional donations accepted
Gift Wrapping Station

Free wrapping for gifts bought at all Holiday Market locations
Special "Shibari Bondage" wrapping and other options available

Naughty Santa and Fun Surprises!
Some booth space still available; sign up here!

San Francisco Fetish Flea

11 am – 5 pm
Wicked Grounds Annex, 289 8th Street
$5 admission

Leather Etc.

10% off when you mention "Holiday Market"

Wicked Grounds

Coffee, kink, and community!

Other Event Locations!

Watch for updates here!
Free continuous shuttle between locations, noon to 5pm

Want more info, to add an event, or to volunteer? Contact manager@sflcd.org.
---
Join us for an hour of kinky, literary fun on the Second Thursday of each month, from 8 to 9 pm.
Our next episode, on December 8, will be a special Holiday Edition.
Hosted by award-winning author Sumiko Saulson.
View past shows at our Erotic Storytelling Hour Archive.
---
THEYFRIEND Festival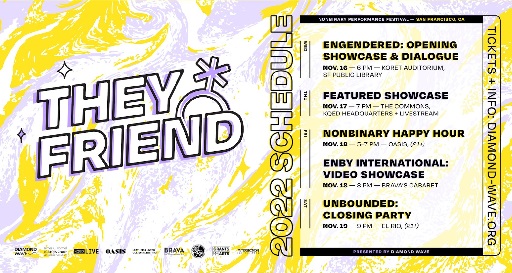 Diamond Wave presents the second-annual THEYFRIEND Festival,
Uplifting, centering, and celebrating nonbinary identity!
Held during Transgender Awareness Week, at various locations throughout San Francisco.
Includes the THEYFRIEND Featured Showcase:

Thursday, November 17, at 7 pm
At KQED, 2601 Mariposa St,

And the THEYFRIEND Nonbinary Happy Hour:

Friday, November 18, 5-7 p.m., at OASIS (298 11th St, San Francisco)
In partnership with Oasis, the LEATHER & LGBTQ Cultural District, and Realest Exposure

Find full festival info here.
---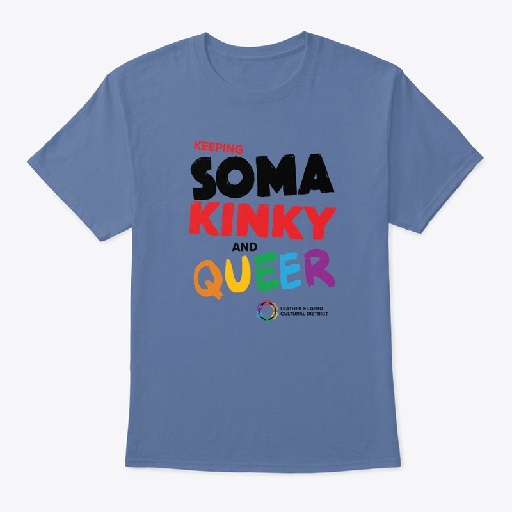 Check out the new items in the Cultural District online store!
We offer mugs, pillows, and t-shirts, tank tops, and hoodies in a range of sizes and colors!
All items made to order and shipped directly to you!
All purchases benefit the LEATHER & LGBTQ Cultural District.
Shop here.
---
Join the Cultural District now!
Membership is $15 (dues waiver available for financial hardship).
Click here to join or renew.

Do not share this link with others; it has been customized for you, and will expire in 7 days.

For assistance, please contact manager@sflcd.org.
---
Help keep SOMA Kinky & Queer; Make a donation today!
Your gift helps keep our kinky places and spaces in SOMA, and supports community events, performances and public art.
Thanks!
---
Tell your friends they can sign up to receive this newsletter at sflcd.org/signup.
Please use the social media links below to follow, repost, retweet, amplify, and share everything we do!
Thanks for reading! Stay kinky!
---
--
LEATHER

&

L

G

B

T

Q

CULTURAL DISTRICT


584 Castro Street #140




San Francisco

,

CA

94114




United States

415-237-3237
SFLCD.org
info@SFLCD.org
Unsubscribe