,
This month's newsletter includes:
---
The next meeting of the LEATHER & LGBTQ Cultural District Board of Directors is scheduled for:
Wednesday, July 20, 2022
from 6:00 to 8:00 p.m. Pacific Time
Join the Zoom meeting here.
Or call 1 408 638 0968 and enter Meeting ID: 847 8906 0820 Passcode: 972086

For questions, contact manager@sflcd.org.
View: the agenda, minutes of past Board meetings.
---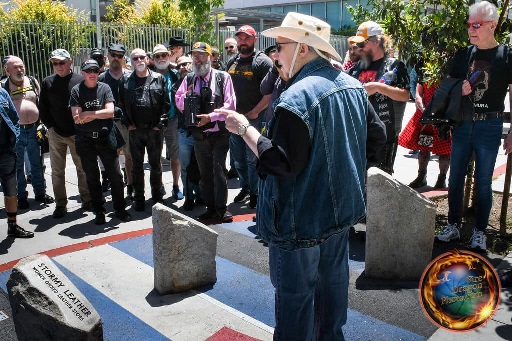 Thanks to everyone who attended the Ringold Revival Block Party and Boot Walk, a celebration of the people and institutions that made South of Market famous, on June 18.
Special thanks to historian Gayle S.Rubin, Sister Tonka Belle, caricaturist Paul Gallo, artist Josh Katz, bondage performers Two Knotty Boys, bootblack boy zander, and all the volunteers who made the event possible.
And special thanks to the 16 artists whose Art Boot creations entertained us all and helped raise funds for the Cultural District's projects and activities. Thanks too to the folks who bid on and bought them!
The Ringold Leather History Walk is located on Ringold Street (between 8th and 9th, and Folsom and Harrison Streets) and is open to visit 365 days a year.
---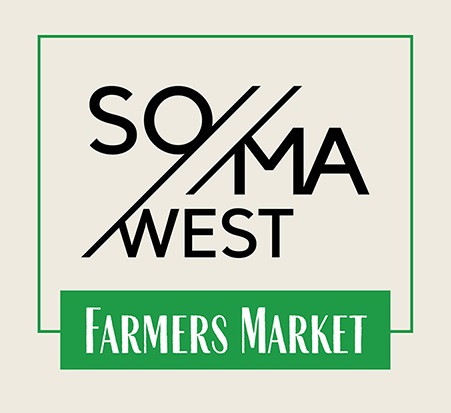 Join us for the Grand Opening Celebration this Saturday, July 23, presentations at 11 am.
New: SOMA West Farmers Market Saturdays, 9am - 1pm in Eagle Plaza! July 23 to October 29.
Second Saturdays of each month (8/13, 9/10, & 10/8) the market ends at 12:30 pm for the LEATHER District's SOMA Second Saturdays 1pm - 5pm.
Enjoy produce from local farmers, prepared foods, community tabling, and family-friendly entertainment.
---
SOMA Second Saturdays! just keeps getting better.
On July 9, we enjoyed

Live flogger painting by Ms. Tress,
Birthday readings by Carol Queen and friends,
The new Trans Village, and
Great local artists and vendors.

You can catch a glimpse of the fun here (courtesy of Vas Kiniris).
Join us on August 13, 2022, 1 to 5pm, on 12th Street, between Folsom and Harrison.
Stick around for the SF Eagle beer bust, 3 to 7pm.
Admission is free; optional donations support the work of the Cultural District.
To volunteer, contact manager@sflcd.org
This is a smoke-free event and any required COVID safety precautions will be taken.
---
Nominations for the Cultural District Board of Directors close at 5pm on July 29.
You can nominate yourself or someone else.
Voting will be open from August 10 - 15.
For info, see https://sfleatherdistrict.org/nominations.
---
---
Join us for an hour of kinky, literary fun on the Second Thursday of each month.
Our next show will be the August 11, "Hot for Teacher Back-to-School Edition", hosted by award-winning author Sumiko Saulson.
View past shows at our Erotic Storytelling Hour Archive.
Full info and Zoom link are here.
---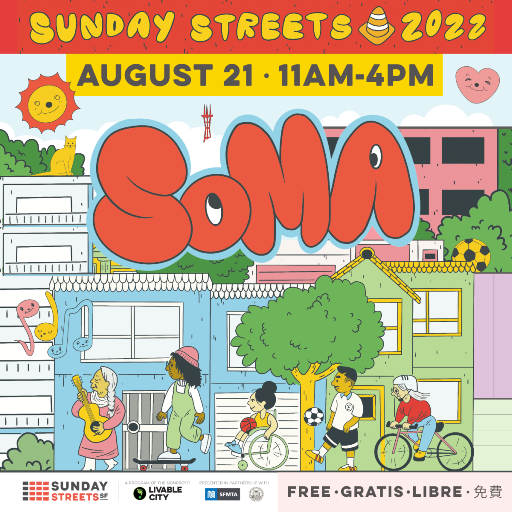 Join the LEATHER & LGBTQ Cultural District and Folsom Street for Sunday Streets SOMA as we host the block of Folsom between 8th and 9th Streets on August 21, 2022.
Folsom Street will be free of traffic from 9th to Main, from 11:00 am to 4:00 pm, to give neighbors and visitors over 1.5 miles of fun for the whole family.
We will offer "adult but family-friendly" free activities and entertainments, plus arts and crafts in our "Market Square".
Queer and kinky organizations and businesse can request to be placed at our hub now through July 25th. Use the code "LEATHER".
More info is on our website.
---
Mark your calendar: LeatherWalk is coming September 18, 2022.
Check for the latest information here.
LeatherWalk begins at 11 am at SF City Hall and ends at 3 pm at Leather Pride Fest'22 in Eagle Plaza, hosted by SF Eagle..
LeatherWalk kicks off Leather Week, which culminates with the Folsom Street Fair on September 25, 2022. Watch for details.
---
Join the Cultural District now!
Membership is $15 (dues waiver available for financial hardship).
Click here to join or renew.

Do not share this link with others; it has been customized for you, and will expire in 7 days.

For assistance, please contact manager@sflcd.org.
---
Help keep SOMA Kinky & Queer; make a donation today!
Your gift helps keep our kinky places and spaces in SOMA, and supports community events, performances and public art.
Donate today — and consider a recurring donation.
Thanks!
---
Tell your friends they can sign up to receive this newsletter at sflcd.org/signup.
Please use the social media links below to follow, repost, retweet, amplify, and share everything we do!
So many events! And you are a part of them!
---
--
LEATHER

&

L

G

B

T

Q

CULTURAL DISTRICT


584 Castro Street #140




San Francisco

,

CA

94114




United States

415-237-3237
SFLCD.org
info@SFLCD.org
Unsubscribe