,
This month's newsletter includes:
The next meeting of the LEATHER & LGBTQ Cultural District Board of Directors is scheduled for:
Wednesday, December 15, 2021
from 6:00 to 8:00 p.m. Pacific Time
Join the Zoom meeting here.
Or call 1 408 638 0968 and enter Meeting ID: 847 8906 0820 Passcode: 972086

For questions, contact manager@sflcd.org.
View: the draft agenda, minutes of past Board meetings.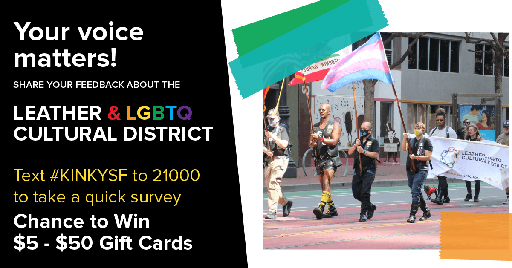 Your voice matters!
Share your feedback about the LEATHER & LGBTQ Cultural District.
Click here to take a quick survey.
Or text #KINKYSF to 21000
You could win a $5 - $50 gift card to a local business!



San Francisco has eight Cultural Districts, each supporting a unique aspect of the City's cultural mosaic. Links to each of them are here.
For more in-depth coverage, you can subscribe to a newsletter, to be published quarterly by the Mayor's Office of Housing & Community Development. Watch for the first issue in your Inbox on January 7th!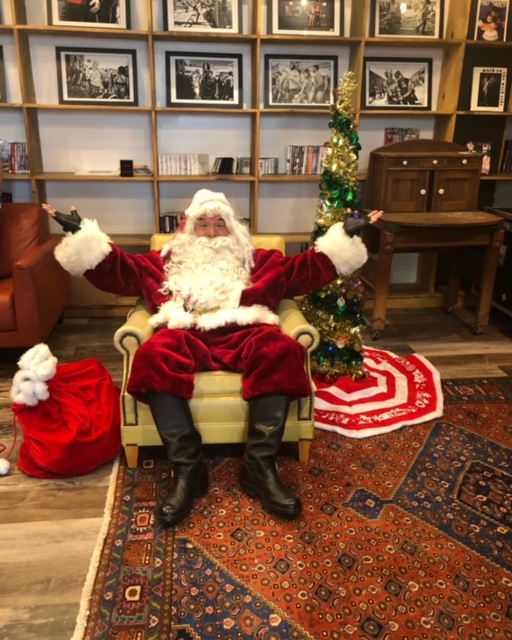 Thank you to everyone who came out to join the fun at Santa Second Saturday! The LEATHER & LGBTQ Cultural District was pleased to partner with PantherProwls Enterprises, Folsom Street, and Soma West Community Benefit District to produce the events. Thank you to participating businesses Azúcar Lounge, Cat Club SF, Fogcutter Tours, Leather Etc., Lone Star Saloon, Mr. S Leather, Oasis, Powerhouse, SF Eagle, Twisted Windows, and Wicked Grounds, to our tireless volunteers, and of course to everyone who did their holiday shopping in our District!
If you would like to establish a new business in the District, please send an email to business@sflcd.org. You should hear from us with details in the new year.
The LEATHER & LGBTQ Cultural District is a 501(c) non-profit, with a lot of important projects lined up for 2022.
We will make good use of your year-end donation:
Join the Cultural District now!
If you joined more than a year ago, please remember to renew your membership.
Membership is $15 (dues waiver available for financial hardship).
Do not share this link with others; it has been customized for you, and will expire in 7 days.
For assistance, please contact manager@sflcd.org.
Do you have a friend who would like to get this newsletter on a regular basis? Send them to sflcd.org/signup to get on the mailing list. Thanks!

Also, please follow, repost, retweet, or otherwise share the news about our events and posts! Your social media activity helps us reach more underrepresented groups. Use the social media links below. Word of mouth is good too.

Thanks for reading all this, and for supporting our Cutural District. Happy holidays!

--
LEATHER

&

L

G

B

T

Q

CULTURAL DISTRICT


584 Castro Street #140




San Francisco

,

CA

94114




United States

415-237-3237
SFLCD.org
info@SFLCD.org
Unsubscribe