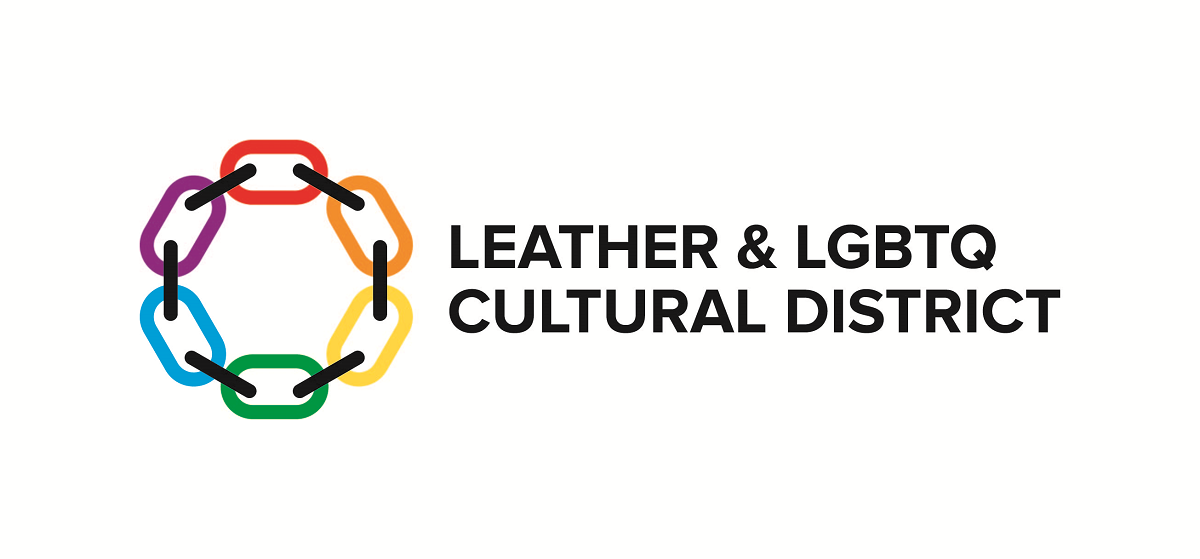 ,
This month's newsletter includes:
The next meeting of the LEATHER & LGBTQ Cultural District Board of Directors is scheduled for:
Wednesday, November 17, 2021
from 6:00 to 8:00 p.m. Pacific Time
Join the Zoom meeting here.
Or call 1 408 638 0968 and enter Meeting ID: 847 8906 0820 Passcode: 972086

For questions, contact manager@sflcd.org.
View: the draft agenda, minutes of past Board meetings.
Welcome to Santa Second Saturday! a multi-location indoor holiday market on Saturday, December 11, 2021. We are moving indoors during the winter weather to bring you the best of local artists, craftspeople, and businesses for your holiday shopping and celebration. Featuring:
Our Art and Artisan Fair at the Folsom Street Community Center, 145 9th Street, Suite 105, from 12 noon to 5 pm. Donation Requested. Featuring:

Local queer and kinky artists and artisans
Gift Wrapping Station
Naughty Santa

The San Francisco Fetish Flea Market, at Wicked Grounds Annex, 289 8th Street, from 11 am to 5 pm. $5 admission
A free, hop on/hop off shuttle on a continual loop to get you to all the destinations, from noon to 5 pm
Get your holiday gifts and gear at Mr. S Leather, 385 8th Street, from noon to 6 pm
Enjoy delicious food and cocktails at Azúcar Lounge, 299 9th Street, from 11 am to midnight
Visit Powerhouse, the SF Eagle, and all your favorite South of Market bars and clubs for Post-shopping beverages
Visit https://sfleatherdistrict.org/santa/ for details, and check back often as we add more sites and features.
So plan to get all the holiday gifts you need for your queer and kinky friends and family in just one day, the second Saturday of December, the day we call Santa Second Saturday!
In compliance with current San Francisco COVID regulations, please bring proof of vaccination and mask up for all indoor venues, except when actively eating or drinking.
If you're interested in participating in our upcoming business incubator program to help new businesses get established in the District, please send an email to business@sflcd.org so we can give you information as it becomes available.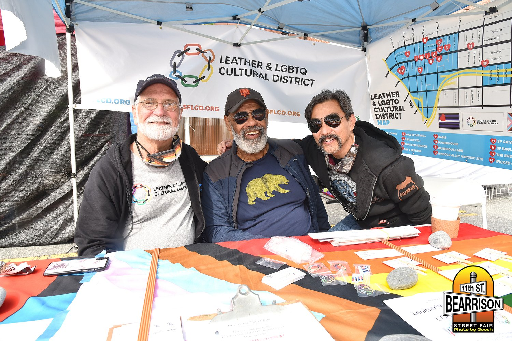 The LEATHER & LGBTQ Cultural District is proud to have been an early supporter and sponsor of last month's Bearrison Street Fair, We congratute the Sisters of Perpetual Indulgence and the Bears of San Francisco for their innovative and exciting event, and look forward to more fun, body positivity, and inclusion next October!
Get an early start on 2022 by looking forward to these events. Everything listed here is subject to change, and especially subject to the whims of a certain virus, so don't mark your calendar in ink quite yet. But let's anticipate:
January, 2022: The Cultural District's Business Incubator Project starts, helping entrepreneurs and craftsfolks to make SOMA their new business home.
February, 2022: A new ongoing light show called Glimmer is set to make its appearance in the District,
March, 2022: We gather to admire the completion of improvements to the Ringold Alley Leather History Site.
April, 2022: SOMA Second Saturdays return to the sunny streets of South of Market.
May, 2022: We celebrate the fourth anniversary of the creation of the LEATHER & LGBTQ Cultural District. Party!
June, 2022: Pop-up events activate Ringold Alley, Eagle Plaza and other nooks and crannies of SOMA.
July 2022: Up Your Alley returns in all its indecent and decadent splendor.
August, 2022: Farmer's Markets enliven Eagle Plaza. Also elections for the Board and Presidency of the Cultural District.
September, 2022: LeatherWalk starts -- and the Folsom Street Fair climaxes -- a fantastic, full-bodied Leather Week.
October, 2022: The second annual Bearrison Street Fair offers new surprizes.
You will want to keep an eye on our calendar for confirmations and details, Meanwhile, get that vaccine booster, stay safe, and look forward with us to a full year of great times in the Cultural District!

Want to help plan these events and make them happen? Consider attending a meeting of our Arts and Culture or Diversity and Membership Committees!

Join the Cultural District! Membership is $15 (dues waiver available for financial hardship).

Join or renew.
Do not share this link with others; it has been customized for you, and will expire in 7 days.
For assistance, please contact manager@sflcd.org.

Do you have a friend who would like to get this newsletter on a regular basis? Send them to sflcd.org/signup to get on the mailing list. Thanks!

Also, please follow, repost, retweet, or otherwise share the news about our events and posts! Your social media activity helps us reach more underrepresented groups. Use the social media links below. Word of mouth is good too.

Thanks for your continuing support of our Cutural District. Happy holidays!

--
LEATHER

&

L

G

B

T

Q

CULTURAL DISTRICT


584 Castro Street #140




San Francisco

,

CA

94114




United States

415-237-3237
SFLCD.org
info@SFLCD.org
Unsubscribe