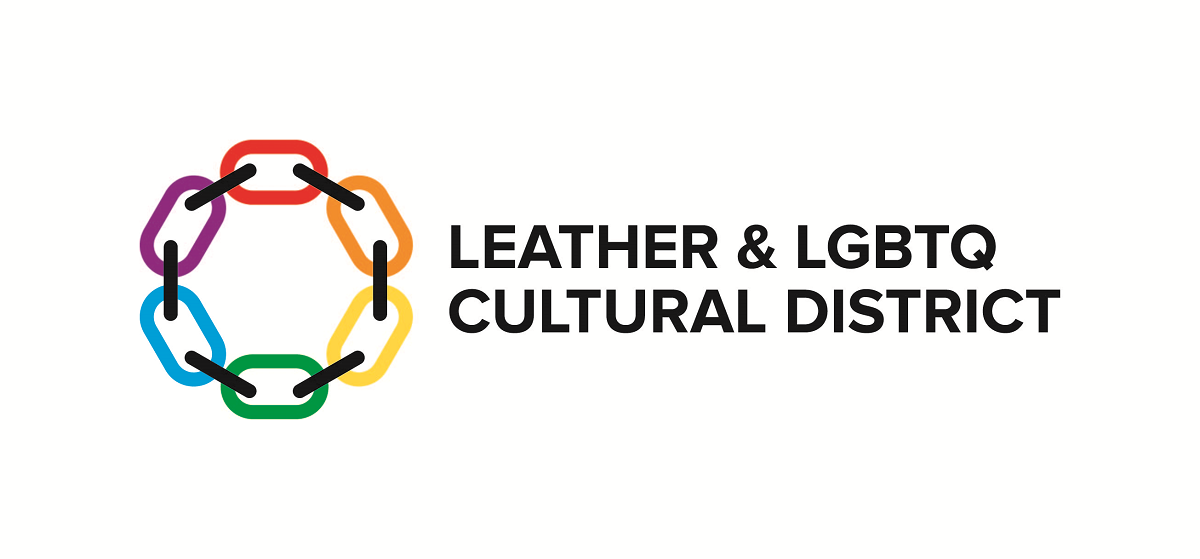 ,

This month's newsletter includes:
The next meeting of the LEATHER & LGBTQ Cultural District Board of Directors is scheduled for:
Wednesday, April 21, 2021
from 6:00 to 8:00 p.m. Pacific Time
Join the Zoom meeting here.
Or call 1 408 638 0968 and enter Meeting ID: 847 8906 0820 Passcode: 972086

For questions, contact manager@sflcd.org.
View: the agenda; minutes of prior Board meetings.
Enjoy our Erotic Storytelling Hour; hear sexy stories read live, online, alternate Tuesdays, from 8 to 9 p.m. Coming up on April 27, May 11, May 25, and so on. Includes stories for all genders and a range of kinks.
And don't miss our special bonus featurette, "Comes the Goddess", written, read and illustrated by Penelope Flynn. 18+ only.
Voter Eligibility: Renew or join by May 20, 2021, to vote in our August elections.
Membership is $15 (waived for hardship due to COVID-19 or otherwise).
Renew or join now! Renewing adds 365 days to your membership.
Check your membership status and renewal date!
The San Francisco Board of Supervisors has unanimously approved our plan to install bronze plaques at key historic locations around SoMa.
Learn more and see plaque design.
The proposal will be reviewed by the SF Arts Commission, this Monday, 4/19 at 2:00 p.m. You can attend virtually to show support if you like: hearing info is here.
Further approvals may be required. To help assure our success, consider signing up for our SOMA Action Network so we can let you know when we need your advocacy.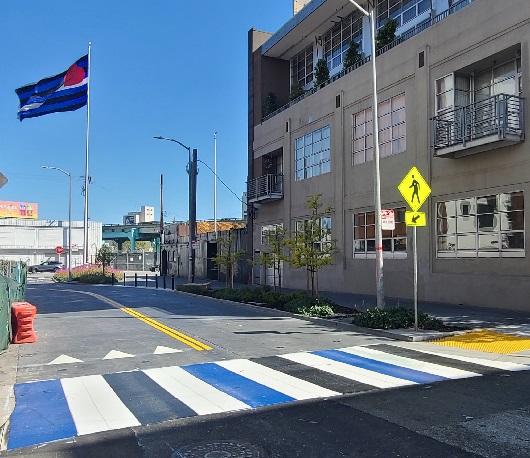 We invite you to stop by Eagle Plaza to see the freshly-installed leather-themed crosswalks.
Additional dramatic black, blue, white and red crosswalks are planned for selected intersections as part of the Folsom Street upgrades, along with Cultural District signage and other decorative elements. Learn more here.
We are planning a NEW monthly, outdoor event in conjunction with Folsom Street Events! We call it:
SOMA Second Saturdays!
Join us at Folsom and Dore, on May 8 and June 12 between noon and 5:00 p.m. for a safe and fun afternoon with a few kinky vendors and non-profits.
Food and beverages served outdoors at Powerhouse!
All SF masking and distancing requirements then in force will be followed.
Interested in a vendor or exhibitor booth? Sign up here.
These other events are also in the works, if city regulations allow:
Sunday, July 25: Folsom Market: Folsom Street Events holds a safe, scaled-down event on the site of Up Your Alley
Sunday, September 26: Folsom Street Events holds a safe, scaled-down event on the site of the Folsom Street Fair
Saturday, October 23: Bearrison Street Fair, The BoSF and The Sisters host a body positivity celebration around 11th and Harrison Streets
SOMA is coming back to life. Be there! (Be masked, socially distanced, and in limited numbers as per City guidelines... but be there!)

You have just a few days left to cast your votes for your favorite nominees for the Golden Gate Guards' "Golden Dildeaux Awards" at ggguards.org/gda/.

Votes cost $1 each, with the funds going to the PRC Emergency Financial Assistance program. Voting closes 11:59 p.m. on Thursday, 4/22/2021.

Zoom in on Saturday, April 24, 7 to 9 pm, to watch "The "Woodies Show", and see who gets a Woody!

The SOMA West CBD has asked our Cultural District to recommend a few local community personalities to be photographed for a series of large-format photo-murals, to be displayed on a prominent Folsom Street building.

Suggest names of local, living, humans by email to arts-chair@sflcd.org.

And watch for a new mural coming soon to the Oasis!

Bookmark our "Events" page to check on our Board and committee meetings, as well as other community events. To have your organization's events listed, contact manager@sflcd.org.

Please follow, repost, retweet, or otherwise share the news about our events and posts! Your social media activity helps us reach more young people, women, trans folks, BIPOC, and other underrepresented groups.

Please stay safe, wear a mask, get vaccinated when it's your turn, and follow city guidelines. We will see you in person in the District soon!

--
LEATHER

&

L

G

B

T

Q

CULTURAL DISTRICT


584 Castro Street #140




San Francisco

,

CA

94114




United States

415-237-3237
SFLCD.org
info@SFLCD.org
Unsubscribe